2016 FPA Annual Conference Takeaways and Recap
Keynote Session Highlights
Opening keynote speaker, Cal Ripken Jr. and keynote host CNBC's Sharon Epperson officially opened the FPA Annual Conference – BE Baltimore 2016. Ripken told the audience he learned the importance of money management early in his career. Ripken also understood the need to keep working on your craft even when you're not performing well. He explained baseball players spend thousands of hours preparing for a game and sometimes have to force themselves to play especially when they're in a slump.  "In business," Ripken says, "you have to do the same."  In his business dealings, Ripken has learned he needs to be a quick learner and have quality people around him. And as it relates to financial planning, Ripken says "you want to have the right people at the table with you when you have a problem to address with clients." Learn more about Ripken's drive for perseverance from the following articles:
The day's second keynote speaker, Eliza De Pardo, of FA Insight provided lessons for growth to firm owners who struggle with growth including how to achieve, manage and sustain it.  Her tips explored how growing by "design" produces sustainable growth that minimizes stress on the firm's infrastructure.  The full study can be found on the FA Insight website.
If you're worried about the presidential election so is keynote speaker Brian Rogers, CFA, CIC Chairman of T. Rowe Price Group Inc. Rogers explains investors become "risk adverse" when facing uncertain events like the election and the terrorist attacks. But, the main fundamentals still apply to these situations in supporting clients – diversify, simplify investment strategies, perform due diligence, be self-educated, stay on top of current events and keep an eye on long-term goals. He also thinks the Federal Reserve should raise interest rates now regardless of the outcome of the election. Read more about Rogers' presentation: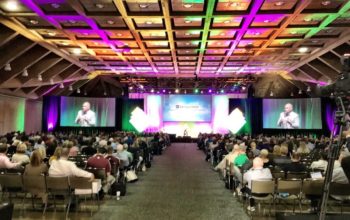 "The very best financial planners are great listeners… stop and listen to your clients' needs," explains Eric Maddox, the mastermind behind Saddam Hussein's capture and closing keynote speaker . "If your clients are not being transparent, there's a lack of trust and empathy," Maddox warned attendees. He advised attendees to clear their mind and really listen to the clients wants, needs and goals instead of having a canned presentation down. "If you listen, your client will tell you their needs and you won't need to prepare for anything because you'll learn what's important to them and how they want to invest. : Read more about how Maddox's interrogation tactics can be applied to financial planning from the 10 Question Interview with Eric Maddox from the Journal of Financial Planning.
Industry Trends Deep Dive 
Good news for advisers struggling with the DOL final rule, Tim Hauser, DOL Chief Operating Officer of DOL Employee Benefits Security administration says "our main goal in the near-term is to help people get compliant." Hauser recommends to research what other advisers are charging and make sure you're in line with it.  "If you're candid with the client about what you're getting paid and [your compensation] is in line with the market you'll be in good shape." And, if firms are trying in good faith to be compliant, the department will assist them in the effort. Additional guidance and FAQs will be released this fall.  Read more about the presentation from the following media articles:
The latest FPA Research and Practice Institute™ (RPI) study sponsored by TD Ameritrade Institutional was released during an onsite press conference on cyber threats.  The report shows 81% of advisers know of the risk, but lack understanding how to mitigate them. A panel discussion dedicated to cybersecurity assessment indicated the first step is to become aware of your data and do a risk assessment. If there's a breach, it's your responsibility to notify clients and ensure your team is aware of what to do in the event a breach occurs. And vet your vendors, ensure your third-party technology partners are safe, visit their office to ensure they're doing what they need to do to be safe. Additional white papers will be released by the FPA RPI on cybersecurity later this year. Learn more about cybersecurity coverage at:
Sessions of Interest
Noteworthy sessions revolved around helping clients through difficult life stages. John Scroggin, J.D., LL.M., AEP®, suggested advisers alert clients to the ramifications of remarriage. Clients should understand the practical, legal and tax implications of the remarriage and should consider declaring who gets personal belongings of the deceased parent. On the flip side, other sessions covered how planners need to think beyond "what to do with client's money" when a client is going through a divorce to help the client divvy up money and consider long-term goals. And Montgomery-Warschauer Award winners Martin Seay, Ph.D. CFP®, and Sarah Asebedo, Ph.D., CFP® presented how positive psychology can improve clients' quality of life through the sense of well-being and the financial planning process.
Evergreen topics took on a new twist as well.  A roundtable discussion that focused on retirement realities explained how longevity, low interest rates and medical advances are making retirement planning more difficult when clients are living to be 100 years old. And we learned 20% of advisers will be exiting the industry in the next five years, but only 2/3 of firms have succession plans. "Having a success plan will ensure your clients are cared for and is a way to increase the future value of your practice," states Mark Tibergien, Pershing CEO. We learned that celebrities make estate planning mistakes just like some of our clients. Michael Kitces, MSFS, MTAX, CFP®, CLU, ChFC, RHU, REBC, CASL provided insight into why "going digital" will help your business grow.  Technology is a tool to integrate into your practice, and in a data-driven world embracing technology will be essential in the next ten years. Stacy Tisdale, Senior Editor of Black Enterprise, stated African Americans' wealth population is rapidly growing and advisers need to help dispel their money beliefs.
Financial Planning Challenge Winners Announced
Additionally, FPA, Ameriprise Financial and CFP Board hosted the 2016 Financial Planning Challenge.  This year's winners are:
1st Place Overall ($10,000 scholarship for their school, 1 hour career coaching from Caleb Brown and full scholarship to the FPA Residency Program)
William Paterson University
Matthew Callander, Stephanie Spies, Eric Vartanian
Tao Guo, Ph.D., Academic Advisor
2nd Place Overall ($5,000 scholarship for their school)
University of Akron
Adrianna Demjanjuk, Joseph Johnson, Benjamin Schwarz
Suzanne Gradisher, JD, MBA, MTax, Academic Advisor
3rd Place Overall ($5,000 scholarship for their school)
Kansas State University
Lindsay Adams, Nolan Keim, Stephen Phillips
Ann Coulson, Ph.D., CFP®, Academic Advisor
FPA Awards Recognize Outstanding Achievement in Financial Planning
The 2016 P. Kemp Fain, Jr. Award is bestowed upon an individual who has made outstanding contributions to the financial planning profession in the areas of service to society, academia, government and professional activities and upholds the FPA core values of competence, integrity, relationships and stewardship. The winner this year's award is Ray Ferrara, CFP®. The 2016 Heart of Financial Planning Award recognizes professionals, financial planning firms and organizations that engage in extraordinary work, contributing and giving back to the planning community and public through financial planning.  This year's honorees are John Crosby, CFP®, ChFC®, CLTC, CRPC®; James Peniston; and Richard Salmen, CFP®, CFA, EA. The Diversity Scholarship is awarded to financial services students and professionals who demonstrate and act upon an intense desire to promote diversity in the financial planning profession.  This year's recipients are Yi Liu, MS; Diane Manuel, Ph.D®, CFP®; and Lauryn Williams, MBA.
Don't Miss Out Next Year!
The 2016 FPA Annual Conference was a great success! If you attended this year, you know the invaluable takeaways you gained from the conference on the latest industry trends while earning CE. You networked with peers and onsite business coaches to gain professional advice to help your practice increase efficiencies. If you didn't attend, we hope you've had a brief glimpse at what you're missing and join us next year in Nashville, October 2-4, 2017 at the Nashville Convention Center!
To help entice you to register now, we're offering a special discount to register for only $699 using promo code [email protected]. Register online now to take advantage of this special offer. Register Now!